In this blog, we discussed about buying quality clothes hangers and making good decision for giving long-life to the clothes.
Chiefly, People dress themselves perfectly to protect themselves from dust and also look nice compared to other people. The clothes that your normally wear should reflect what type of person you are. Buying quality hangers for hanging clothes will helps to maintains the elegant look of the clothes. In fact, that reflects your overall personality. People are certainly judged by others only through outside appearance that they actually see. It also includes the important way that you actually carry yourself in a place, your makeup and also your choice of dress.
Most of the homes and also retail stores use hangers. They are not just only used for hanging up your clothes but they also play a crucial role in your closet. Buying quality clothes hangers is also said to be a great investment and this is the reason why it is important to buy the perfect ones that is widely available in the market.
Buying quality cloth hangers-benefits:
Moreover, if you have enough idea about its important types and uses, you can then get in touch with those of some hanger dealers around major cities like Tirupur, Karur. There are several hangers designed mainly for enhancing the space of your wardrobe, some of them are mainly for delicate fabrics of your clothes such as satins and silks. When buying your clothing hanger, you should consider the space of your closet and most especially the type of clothes that you have.
Your closet is one of the first things you see every day in morning. Having a neat, organized closet helps you to quickly find the clothes you want can really help you start off your day on a positive note. At the very least it will be one less frustration in your hectic day.
Buying Best Quality Hanger Materials:
Wire Hangers
Wire hangers are great for all sorts of things. They can help you free a sink, fish wire through walls, unlock your car door if you locked yourself out, and they are absolutely cheap way to transport your clothes from the dry cleaners. They're not so great for your clothes.
Over the years, wire hangers have been getting thinner and feebler. They will never distribute the weight of the garment over a large surface area. These hangers are not wide enough which can cause hollows in the clothing. Apparently the metal can even discolor some fabrics, which is why when you get your clothes from the dry cleaners, there's sometimes a paper sleeve over the hanger or some cleaners use coated hangers.
Plastic Hangers
Moreover, these are better for your clothes than wire hangers and most of my closets were filled with them. Plastic hangers are not so horrible but over the years you can pick some from the drugstore, the supermarket, and other locations and you can wind up with a bunch of slightly different hangers in a rainbow of colours.
Getting all new plastic hangers that are the same size and colour is an option but it seems like a waste. If I'm going to replace your hangers, just replace them with something better. Another problem with plastic hangers, over time some of the hangers hooks have deformed resulting in an uneven appearance that makes the closets looks messy. Hanging heavy items, such as jeans, on the bar of the hanger can also cause them to deform as can be seen in the photo above. Buying hangers are easier, but you should buy best quality out of them.
Velvet Hangers
Velvet hangers are the new types of hangers which appears to be very popular. They have a chrome hook, which fits with my design goal, and the body of the hanger is a thin plastic that has a flocked surface. Think of the inside of a jewelry box. This velvet like surface provides friction to prevent clothes from slipping off from the closet. They also have little indentations to hold on to clothes with thin straps so your tanks and spaghetti strap dresses don't wind up on the floor every time you look at them funny.
In essence, these hangers are reasonably priced and have a lot of good reviews. The only big downside is that if you put wet clothing on them it can degrades the colour of the velvet, or otherwise damage the textured coating. Some people usually hand wash their workout clothes and then throw them on hangers to air dry. For hanging wet clothes, you can buy few plastic hangers for that.
Velvet hangers will be the best choice for hanging shirts and few other tops. Many people had replaced their plastic hangers with these velvet hangers and felt a great difference.
Wooden Hangers
If you want to feel like you're looking through the racks of a high end clothing store when you're selecting your outfit for the day there is nothing better than real wood hangers. They add a touch of elegance to your closet. Wooden hangers are available in major retail stores, shopping malls etc. They add a rich look when you hung clothes in it.
These wooden hangers are available in a number of different colours to match your closets decor as well as unfinished aromatic cedar.They come with a bar for pants and are labelled as suit hangers but some reviewers claimed that the bar wasn't sturdy and just stapled on. Hanger dealers offers a limited lifetime warranty on these hangers which does give me some piece of mind.
Moreover, these hangers are very affordable and you're going to have to expect certain things. The elegant finish on the top of the hanger appears to be smooth but on the front and back there are some rough spots. For the price though, they're a very good value.
Clip Top Pant and Skirt Hangers
If you have at least a medium hang section of your closet, you can hang your jeans and slacks without folding them. Simply clip them upside down to a clip top hanger and you are set.
Some of the cargo shorts and bike shorts are especially hard to fold and the best choice will be getting clip top hangers for these. Either chrome or black ones that match the slacks hangers or wooden ones because the wood will be visible and provide a more pleasing appearance. These are the ones I'm considering.
Suit Hangers
In fact, the main reason for using the suit hangers, it will have wide shoulder which helps to hang suits perfectly. These are the different types of suit hangers. They help preserve the shape of the suit. These are not to be confused with the cheaper contoured wood hangers which have a curved shape but not the wide shoulder pads.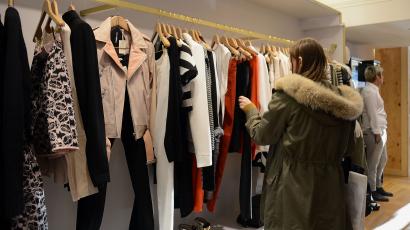 Consequently, Suit hangers are not so cheap, but it is costlier while considering you're putting a suit or jacket on it that you paid hundreds or thousands of dollars for. Hanger Suppliers helps you to select the best variety of hangers.
Conclusion:
Therefore, Hanger are the ones which helps us to protect our clothing for a longer-period. We hanger dealers In Tirupur, Karur Serve effectively for our clients over Tamil Nadu. Exclusive collections of hangers, huge variety, People believe us as we are making the best hangers from high quality raw materials. Best offers! We offer hangers for wholesale and retail. Hurry up!! To grab your hangers…. Thanks for reading!! For more details visit our site…