Exclusive Hangers are the ultimate structure for drying our clothes.
Exclusive hanger dealer blog. Miya is a HR in a top MNC. When she returns back from her office, she completely drenched in rain and reached her home. The rain was too heavy that doesn't gave way to dry her clothes and other accessories. She was very tired after a long working day and also need to get prepared for an official meeting which was to be attended by her. All her blazer suits and other personal accessories was wet. Miya was blabbering that "We are reaching heights in many inventions day by day; why don't we have a thing for each and every accessories to get dried during this rain? My tie, my shoes, oh my god! My costly mobile phone is watery now! It think this is possible only in dream or in a fantasy world for such a dreamy invention! " The next day when she reaches the office, there was a man who was waiting in the lobby. She enquired the man and came to know that he is a hanger dealer in Tirupur and Karur who came with new hanger models which was an essential requirement in the office environment at that time. He came with new kinds of hanger samples that impresses and glows Miya's mind. Her dream thought is now live through this hanger dealer. Yes, Miya's dream comes true. The man came with tie hanger, belt hanger, footwear hanger, polybag hanger, wire, velvet, metal hanger, wooden and plastic type hanger along with garment hanger and cloth hanger (shirt hanger, pant hanger, sweater hanger, skirt hanger, suit jacket hanger) latest slim line hanger, etc.,
Exclusive Hanger dealers organises the environment of the organisation
After displaying all kinds of the above hanger models, the surprised Miya asked for a catalogue to proceed with her boss. The description below is printed as in the hanger catalogue. TIE HANGERS: Well organised stylish backdrop tie hangers for both home and shops. This wooden tie hanger has the capacity to hold multiple number of tie which saves more space. BELT HANGERS: Designed through professionals by using finest quality raw material in variety of designs and colours. Suitable for residences, showrooms, malls and belt shops. FOOTWEAR HANGERS: Available in all sizes from infants to elders. Hangers for shoes, boots, slippers, flip- flops and sandals with comfort structure and secure hold for display. POLY BAG HANGERS: To display general textile and other products. Minute particles can be stored and manufactured by water proof nature.
WIRE HANGERS: These wire hangers vary with quality. Thin wire hangers suitable for dry cleaning centres and dry clothes. Yarn or plastic material covering with wire hangers which gives long life to the clothes and protection from rust. VELVET HANGERS: A traditional triangle shape that is covered with a thin layer of velvet that gives hassle free usage and grip to clothes. METAL HANGERS: Metal hangers are made up of iron and copper which are free from rust and heavy duty hangers. WOODEN HANGERS: Matches human shoulders that gives perfect fit to your expensive clothes in order to receive proper support at proper place. PLASTIC HANGERS: This hanger is an easiest way to organise all kind of clothing items that needs additional care and maintenance.
"GET RID OF ANGER THROUGH THE USAGE OF HANGER!"
The ultimate aim of a exclusive hanger dealer(cloth)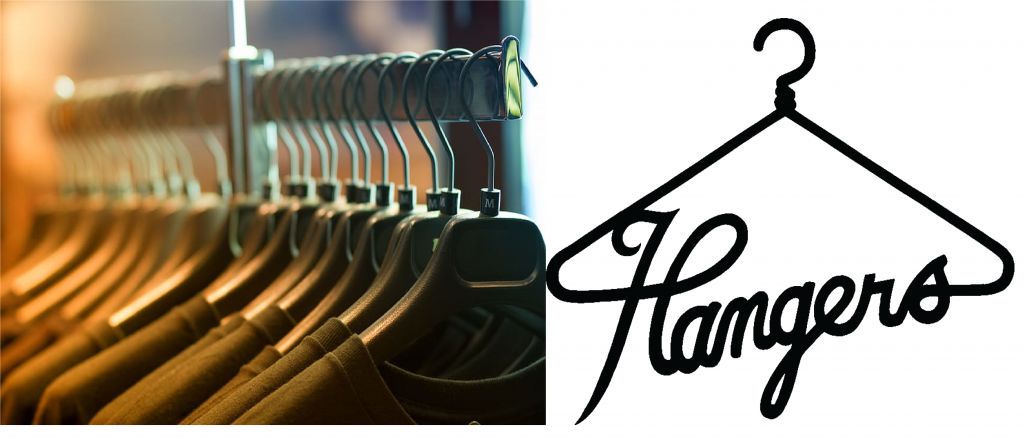 Selection of right hangers gives your closet a neat appearance. Without the usage of hangers, the closet seems to be messy and gives frustration in our hectic day. Hangers are otherwise known as closet organisers which is lovely for our eyesight and assures freshness for our clothes. Our wardrobe is a visual treat and the first thing which we use routinely in our daily life. Some of the aesthetic aspects to choose hangers are 1.Hangers are space saver 2.Keeps the clothes away from wrinkles, tears, unwanted stretching and crushes 3.Easy availability for what we are looking for. There are multiple choices in hangers based on types, material, styles and customer demographics. The cloth hangers by materials are classified into Wooden, Plastic, Velvet, Metal, Bamboo, Wire, Satin and Fabric. The cloth hangers by clothing materials are classified into Pant hanger, Shirt hanger, Suit hanger, Scarf hanger, Belt hanger, Tie hanger, Pouch and display hanger, Handle hanger, Lingerie hanger, Coat hanger, Shoe hanger and Travel hanger. After a complete go through of the hanger catalogue, Miya's boss told to hanger dealer that "one of my friend is going to start a bridal store in multiple locations at Tirupur and Karur. So which hanger will you recommend for bridal stores and bridal wears?" The hanger dealer suggested wooden hanger. Since, it is strong enough to hold the heavy weight of the bridal blouses and gowns. And also these hangers are very strong and break resistant for wedding dresses. Moreover these hangers are aesthetically appeals to the eye which preserves the life of the garment for a long time.
"HANGERS TENDS TO EXTEND THE LIFE OF YOUR TRENDING CLOTHES!"
The choice of exclusive hanger dealer matters
Lingerie hangers: The delicate items like bras, panties and night wears deserves complete dryness and cleanliness. We include hangers for lingerie items too for easy maintenance like hanging in balcony or in sanitary room or even in your own closet. Choosing the appropriate hanger for your expensive clothes is always crucial for selecting the right suit for right occasions. Also, maintenance of suit in a right manner will enhances the longevity and natural drape of the cloth or jacket. Hanger reduces the messy and un-attractiveness of the closet by clearing the junk appearance. For easy accessibility of your clothes, you should buy hangers along with the clothes during the time of purchasing. The outfits should get hung properly in the closet. Similarly, satin padded hangers are also used instead of lingerie hanger for delicate items. To avoid the cedar smell in the lingerie's and rust stain on the bras, lingerie hanger is the ultimate choice. The features considering while selecting the hangers are namely Strips, Strap notches, Swivel and driving factors like folding, Non slipy nature, Padding and Width. SLIM LINE HANGERS: The slim line hangers will organizes your closet like never before. This is a mind blowing solution for the over-stuffed wardrobe. The cascading mini hooks in this slim line hangers will full fills all your closet needs by coordinating and keeping the clothes wrinkle free.
Exclusive Hanger dealer (GARMENTS)
SHIRT HANGERS: Everyone looks better and more alive while wearing a shirt. Rolling up the sleeves of the shirt gives impression of working even if you don't. So, hanging this light weight fabric in a shirt hanger gives smart outlook for your shirts. PANT HANGERS: Similarly, to hang your multiple pair of jeans or cargo pants or pants with thick waist band without any shrinks, pant hangers are ideal. Generally, this hanger involve in sliding the folded pants over the surface of the hanger. Furthermore, it is sturdy enough to handle the weight of the pant which gives straight shape. SCARF HANGERS: Scarf hangers manufacturing is with individual loops to contain each and every scarfs in an ordered manner. Either it may be heavy weight winter scarfs or light weight silk scarfs; the scarf hanger is perfect for both. Untie your scarf and make it smooth, then hang on a scarf specific hanger. SWEATER HANGERS: Moreover, the sweaters which is in hanging position don't get stretch out easily. Placing the hanger hook in the armpit and folding the waist and sleeves over the hanger gives long life for the sweaters. SUIT JACKET HANGERS: The hanger which preserves your expensive suit is the right type of suit jacket hanger. It should have crease free nature and solid shape to hold the outline of the suit. The type of material utilization, shape and sturdiness to be on focus while selecting a suit jacket hanger. Sizing is crucial in suit jacket since mis-happening may cause damage.
Exclusive Hanger dealer(CLOTH)
1.Firstly Ceiling cloth hangers, 2. Secondly Wall mounting hangers and 3. Thirdly Clothes drying floor stand are the trending cloth hangers in the market now. Heavy duty stainless steel pipes provides high tolerance towards wet clothes which accommodates less space and more clothes. The wall mounting hanger manufacturing is with the aid of diligent experts which brings forth pristine range to the place.
"Keep your closet in control by feel good hangers!"
PLASTIC HANGER MANUFACTURING PROCESS
In the first place, the plastic granules undergoes melting and high pressuring into a tool called mould. The mould gives the desired form to the plastic and injected by the help of a machine called moulding machine. This hanger gives strength, non-brittle and flexibility . 1. Injection moulding from a thermoplastic (PVC, Polystyrene) It is a manufacturing technique for producing parts by injecting the molten material into the mould. Thermoplastic polymers and thermo setting polymers are main components in hanger manufacturing process. The types of injection moulding process are namely, die casting, metal injection moulding, reaction and thin wall injection moulding. The typical mm for thermoplastic is ±0.500 and possible mm is ±0.200. 2.Compression moulding from a thermoset plastic (epoxy) Moulding tolerance is a parameter for dimension, shape, weight and angles. As a result, to maximise the control in setting the tolerance, the limit of thickness maybe maximum or minimum. The typical mm for thermoset is ±0.500 and possible mm is ±0.200 correspondingly .
CONCLUSION
At last, the hanger dealer satisfied Miya's boss by his clear cut explanation on hangers. The boss suggested his friend who is going to start a new bridal store at tirupur and he ordered a bulk of wooden hangers. Miya ordered a pair of tie hanger and belt hanger, some footwear hangers for her shoes and polybag hangers to safeguard her mobile and other accessories. Also lingerie hanger and scarf and suit hanger to dry in winter and rainy days. Her boss placed a bulk order of plastic hanger and multiple types of garment hangers for his garment factory at karur happily.
"Usage of hangers will make you feel pleasant and silky finish without any rough patches. Hangers will care for your clothes."